Ross Revenge Boat Trips

Wireless Waffle
recently spotted that
boat trips to see Radio Caroline's ship
, the Ross Revenge, were available to book from their web-site (follow the link) and so it seemed like the perfect opportunity to don an anorak and set sail. On the day of the visit, the weather was beautiful, sunny, 26C and the sea was calm, but it isn't always like that. Boarding the Razorbill 3 , the tender which takes you from the jetty at West Mersea out to the
Ross Revenge
, it was a pleasure to see so many families taking advantage of the weather to go crabbing. The ride out took about 25 minutes and was a delight in itself with the cool sea air rushing past.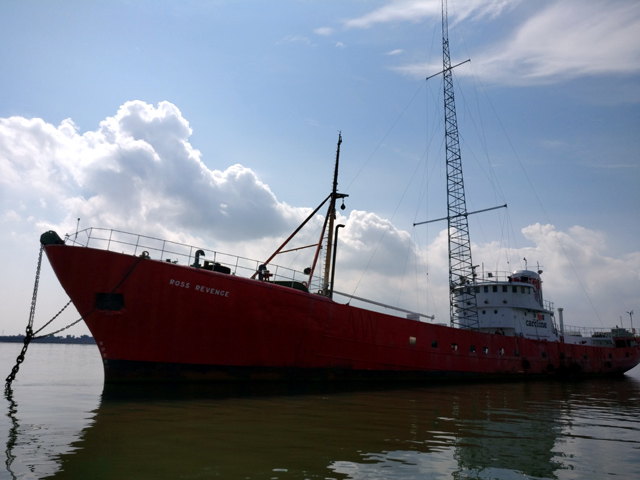 Pulling alongside the boat, it looked exactly as it does in all the postcards, though the current mast is a lot smaller than the 100 metre mast that was in use for transmission during Radio Caroline's heyday. Arrival onto the boat was greeted by a cup of tea and a fig roll in the mess and a description of the history of the boat, which turns out to have been a prize Grimsby-based fishing boat originally made as an Icelandic ice-breaker. Much of the tour of the boat is about the Ross Revenge itself, as well as the catastrophic events of October 1987 which saw the original mast collapse in a storm.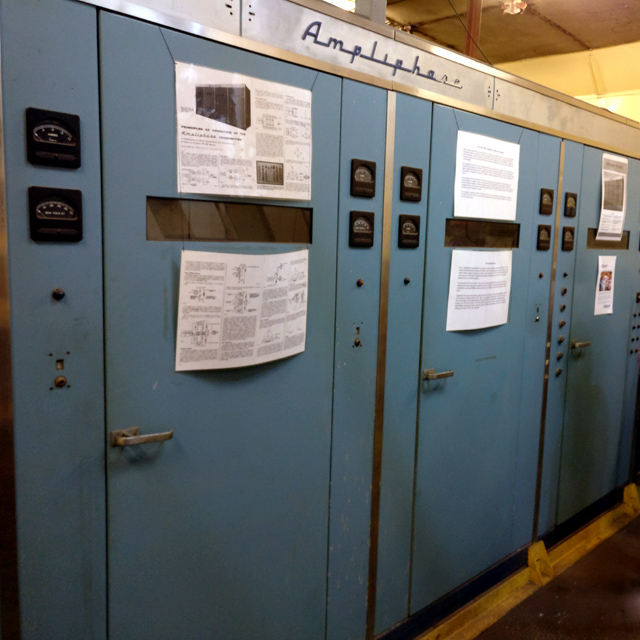 Of course no tour of such an historic ship would be complete without a visit to the studios and the technical facilities such as the engine room, generator room and of course the transmitter room. The 50 kW 'Ampliphase' transmitter consumed nearly 1 tonne of fuel per day to operate so it's no wonder that getting supplies to the boat, including diesel and fresh water, were so critical.
Though the notion of being a pirate at sea may seem romantic, it is clear that the lives of the DJs and other staff must, at times, have been pretty miserable. The cabins below the deck are relatively spartan and if it was blowing a gale, there couldn't have been much to do if you weren't on air.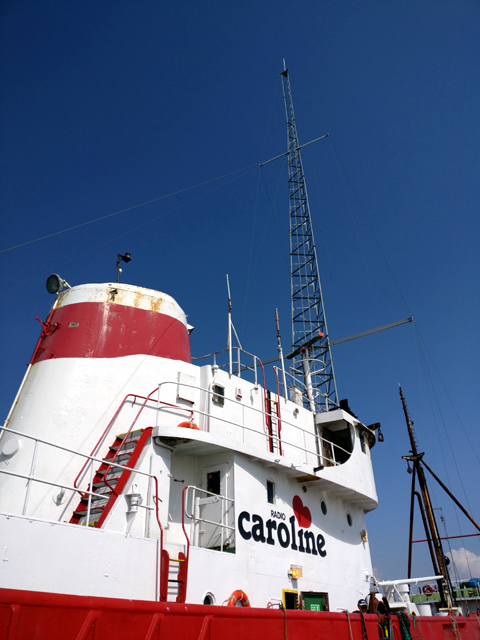 The return from the ship to the shore was equally exhilarating and you left with a lot of respect for those who took to the seas to try and deliver a radio service that filled the gap left by the legal, land-based services.
The tour comes with the Wireless Waffle 'big thumbs up' seal of approval, and is highly recommended. Obviously the weather can not be guaranteed, but an interesting and enlightening day-out is assured.
Recently,
Radio Caroline has been awarded a licence by Ofcom
to operate a 1 kW medium wave service on the old BBC World Service channel of 648 kHz. Whether the station can hold its own in today's crowded, on-line, market remains to be seen, but there will no doubt be a few anoraks tuning in for old time's sake. And maybe they can re-capture the spirit of those halcyon days without needing sea sick buckets.
add comment
( 101 views ) |
0 trackbacks
|
permalink
|





( 3 / 3055 )