Antipodean Gain

Despite it being a well-known phenomena amongst radio fanatics around the World, there is little written on the internet concerning a strange effect known as 'Antipodean Gain' and for that reason
Wireless Waffle
has decided to take it upon ourselves to enlighten anyone who is not familiar with it.
Antipodean Gain can impact any radio wave capable of traversing the globe and therefore mainly applies to
short-wave
radio signals but in theory could be valid for medium-wave and long-wave signals too if the radio propagation conditions are right. The idea is a relatively simple one: if two stations wishing to communicate are at
antipodal points
, which put in laymans' terms means that they are exactly on the opposite sides of the planet from each other, it does not matter which way you direct a radio signal from either point, it will be aiming directly at the opposing point.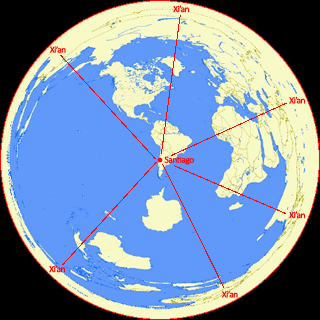 Take, for example, Santiago in Chile (70.7W 33.5S), and Xi'an in China (108.9E 34.3N). To within 100 km (60 miles), these two metropoles lie exactly opposite each other on the globe. Thus, no matter which direction you face when standing in Xi'an, Santiago ise around 20,000 km away and the same is true in the reverse direction. If you think about this from the perspective of radio signals: whilst signals normally spread out as they travel away from the transmitting antenna, with antipodeal metropoles the signals re-converge. Therefore any signal leaving the transmitter site will be directed to the receiving site and although they may have originally been spread out, the re-focussing of the signals will mean they add back together and the path between the two will have far less path loss than one which is of a similar length but is not antipodean.
The map to the right shows the World from the perspective of someone standing in Santiago. China is the circle which is in every direction you look, and the very edge of this is the city of Xi'an (the outer circle coloured in red), and so no matter in which direction you look, you will be looking towards Xi'an. The same would be true of someone standing in Xi'an: no matter which way they looked, they would be facing Santiago.
If this is still too complicated, just think of the North and South poles. It doesn't matter which way you face at the North pole, you will always be looking directly towards the South pole (and vice versa). And thus, an omni-directional antenna, which transmits in every direction, when used to communicate with a city on the opposite side of the Earth would effectively be a highly directional antenna, with all of its radiation focused on that city. Signals that would otherwise have spread out would be re-focused into a tight beam.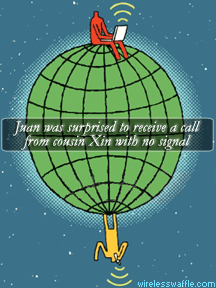 If this sounds all too unrealistic, work out which country is at the antipodal point of your current location and tune in to a short-wave radio station that is transmitted from that location. For the
UK
, this is pretty much
New Zealand
(although strictly speaking, New Zealand is antipodeal to
Spain
). For the USA and Canada, you are largely out of luck, as the opposite side of the planet mostly comprises the wide, open and empty expanses of the Pacific Ocean.
So now you know. And to help you calculate where your antipodeal point is, just enter your latitude and longitude (in decimal degrees) into the
Wireless Waffle Antipodal Point Calculator
below, and press 'antipodate me' and we'll do the maths for you. You can then click on the globe to the right and see the your location and that of your antipodal location on Google maps. As they say in France, 'Voila!', or as they say in China, 'Zhèli shì'!
Wireless Waffle Antipodal Point Calculator
Your Latitude (e.g. 33.9N)
Your Longitude (e.g. 108.9E)
Antipodal Latitude
Antipodal Longitude
add comment
( 183 views ) |
0 trackbacks
|
permalink
|





( 3 / 1105 )