Frequency Asked Questions

Thursday 31 January, 2008, 20:22 -
Amateur Radio
Posted by Administrator
A quick scan of the 430-440 MHz (70cm) amateur band in the UK usually reveals very little, other than the occasional repeater and one or two low-power licence exempt data transmitters (for weather stations and so on). But the other day I stumbled across a number of transmissions in the band which puzzled me.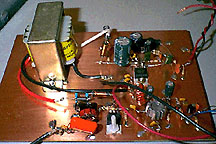 The first of these were foreign voices being transmitted on what was clearly some kind of repeater on a frequency of 430.0375 MHz. This turned out to be an
Echolink
node near Heathrow Airport in London that was being accessed by some Maltese radio amateurs. OK, so I should have known about this and it's certainly no mystery. But then I heard something similar on 430.0875 MHz and as far as I can make out, there are no Echolink nodes on this frequency in the UK.
The next signal was encountered when listening to the GB3FN repeater on 433.375 MHz. I kept receiving bad adjacent channel interference. In the end this turned out to be a strong voice transmission on 433.3875 MHz (12.5 kHz up from the repeater output). From my memory of the 433 MHz band in the UK, the Ministry of Defence (MoD)'s MOULD repeater network has outputs that are interleaved between the UK repeater network outputs (a bit of a silly arrangement if you ask me - just asking to be overheard), so this is likely to have been one of these - but could equally be an illegal user making use of amateur equipment with the hope of going unnoticed (in which case it was a bad choice of frequency).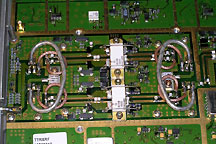 Finally, I have noticed a data carrier on 437.575 MHz which seems to be on-air continuously (at least it's always been there when I've listened). At first I thought this might be a spurious response from some other frequency but checking on a second receiver the signal was there too which pretty much confirms it. This part of the 70cm band is (according to the UK bandplan) assigned for amateur television and satellites. The signal is too fluttery when mobile, and too steady when not, to be a satellite (and anyway the frequency is not listed for any amateur satellites I could find) and is certainly not television. All this means that the things I've heard could be:
* Perfectly legitimate transmissions from the primary user of the band (the MoD)
* Radio amateurs operating outside the bandplan
* (In the case of the 437 MHz signal) An illegal link set up in the band hoping no-one will notice
The difficulty is that, because radio amateurs are secondary users of 70cm in the UK, it is to be expected that other signals will be found in the band. However, as it would be against the terms of the operating licence to listen to non-amateur transmissions, it is effectively illegal to listen to these signals to try and identify their source - we cannot police our own frequencies.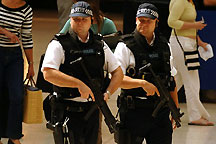 Unless the 'powers that be' (or the primary user) take an active interest in monitoring the band, it is therefore quite possible for illegal usage to go unnoticed and unreported. It is quite likely that if anyone is monitoring they put any anomolies down to radio amateurs.
Now the use of frequencies (430.0875, 433.3875 and 437.5750 MHz) by some other user does not necessarily represent a mass invasion of the band by unwanted types, but it does serve to highlight a problem. The only (legal) recourse to action is to report this usage to
Ofcom
and let them investigate (though by doing so you would have admitted to having heard them and thus breached your licence already). Which offers up a second problem - if the transmission is found to be legitimate, you have to pay Ofcom for the privelege of them telling you so (at least that seems to be the case - their web-site does not specifically touch the matter as amateur radio is not a business radio user nor is it domestic television or radio reception). Whether Ofcom have a database of MoD usage and thus would be able to dismiss any enquiry rapidly is unclear.
As secondary users, radio amateurs must accept any interference caused by the primary user, and this is an accepted symptom of sharing the band. But does it also mean that we are to suffer interference from potentially unlicensed and illegal users, without any clear method of redress? Or worse, be blamed for such intrusions? It seems this may be the case. For now, I thought the best thing I could do was post the frequencies here and see if it raises any interest from the UK radio amateur community.
1 comment
( 1525 views ) |
0 trackbacks
|
permalink
|





( 3 / 7235 )