Antenna Plural Bugbear

Aaaaargh... Why is it that so many people insist on using the wrong plural for antenna? It's soooo annoying. There are two plurals of the word 'antenna':
Antennas
- a technical term meaning more than one antenna or aerial
Antennae
- a zoological term meaning more than one antenna of an insect nature
Don't confuse the two! I often see articles where people say that they have erected 'antennae' at home. Really? They've spent an afternoon mounting insect feelers on their house? Interestingly the entomological community rarely make the same mistake. It's not common for them to claim to have found a new kind of bug with aerials growing from its head!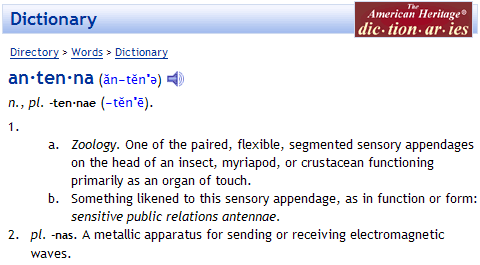 If you don't believe me, take a look at the screen-shot above taken from
answers.com
which clearly defines the two different plurals and their different meetings.
To avoid all confusion, try using 'aerial' to mean a radio antenna, that way there's no confusion as the plural is quite obviously 'aerials'!
add comment
( 2557 views ) |
0 trackbacks
|
permalink
|





( 2.9 / 5716 )