Digital UK Magic Spectrum from Nowhere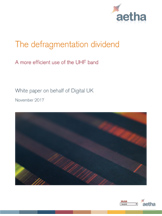 Digital UK
, the organisation responsible for promoting digital terrestrial television in the UK, has recently published a white paper it commissioned from consultants
Aetha
and
Webb Search
entitled '
The defragmentation dividend: A more efficient use of the UHF band
'. The paper hypothesises that by re-organising the UHF (e.g. sub 1 GHz) spectrum available to mobile operators, it would be possible to use it more efficiently and deliver more service from the same amount of spectrum.
The paper identifies the fact that, at present, the '
digital dividend
' spectrum (e.g. that which has been released from television broadcasting due to the increased efficiency of digital transmission over its old analogue counterpart), is broken up into a number of fragmented pieces whose usage is not optimum. This is certainly true: the figure below shows the current set of allocations within the frequency range 694 - 960 MHz.

The mobile allocations at present are as follows:
Band
Uplink (MHz)
Downlink (MHz)
Amount (MHz)
Notes
900 MHz
876-915
921-960
78
Including GSM-R
800 MHz
832-862
791-821
60
700 MHz (a)
703-733
758-788
60
FDD
700 MHz (b)
738-753
15
TDD or Downlink
TOTAL
213
In addition there is approximately 29 MHz set-aside for short-range devices. Thus, of the total of 266 MHz of spectrum between 694 and 960 MHz, 213 MHz (80%) is allocated to mobile services, 29 MHz (11%) for short-range devices leaving 24 MHz (9%) 'empty' (mostly for guard-bands to protect services on adjacent frequencies from interfering with each other). The theory is that by re-arranging the band, it is possible to use all of the small gaps that currently exist between the various mobile allocations (e.g. the 9% that is empty) for more mobile services.
One of the problems of the plans proposed in the report is that although they increase the amount of spectrum for mobile services to up to 250 MHz in their most extreme case, they also reduce the amount available for short-range devices from 29 MHz to just 16 MHz. Whilst you may be thinking, "isn't mobile a better use of spectrum than short-range devices", the fact is that an increasingly wide ecosystem of devices is supported in this spectrum. It includes radiomicrophones and wireless headphones but perhaps even more critically, a growing number of
Internet of Things
(IoT) technologies that are seen by many as being at the centre of the next stages in the development of the Internet. This includes sensors (e.g. thermostats, light sensors), smart meters (electricity, gas and water) and a wide range of smart-city applications such as transport management. Digital UK's proposed plans involve changing the frequencies used by these devices, which is notoriously difficult. How long, for example, do the keyfobs that unlock your car door last - as long as the vehicle itself in most cases. So clearing a short-range device frequency won't be completed until every device in a band has been replaced by a new one.
The report only pays passing comment to the new 600 MHz mobile band that is being implemented in the USA. In fact, the report seems to suggest that even its most conservative re-organisation option would release so much capacity that there would be no need for the 600 MHz band:
...even the more modest increase of 25% in Option 1 would be similar to the capacity that could be provided by repurposing the 600MHz band...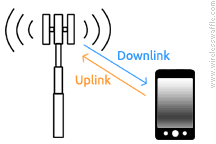 It makes this claim as a result of an oddity of current mobile technology, in which the amount of spectrum (and capacity) that is available to a mobile user is roughly equally split in the uplink and downlink directions (e.g. to the network from the user, and from the network to the user respectively). If the band was re-purposed as Time Division Duplex (TDD), the share of uplink and downlink capacity can be changed, and the report assumes that 80% of overall capacity would be made available for downlink and 20% for uplink (this is in fact in line with current estimates of the real split of usage). If this is the crux of the argument, then doing nothing at all to actually change the overall amount of mobile capacity available, but changing all of the existing allocations to TDD would approximately yield a 60% 'improvement' in downlink capacity, but this would be to the loss of uplink capacity which would fall by 250%! There is no gain without pain. In addition, TDD operators in adjacent mobile spectrum need to fully synchronise their networks otherwise there needs to be a guard-band between them, reducing the overall efficiency of use and opening up new gaps.
Whilst the report makes a valid argument about whether the future of mobile should be TDD or FDD, it is perhaps no surprise that it chooses this solution to theorise about an improvement in the efficiency of use of UHF spectrum, over and above the use of the new 600 MHz band, whose use would obviously entail the loss of (yet) more spectrum for digital terrestrial television. Sadly for Digital UK, the required pain, in terms of re-organising existing mobile networks, and replacing all short-range devices is sadly never going to counterbalance the gain of a few extra MHz of UHF spectrum.
add comment
( 2 views ) |
0 trackbacks
|
permalink
|





( 3 / 5 )
Ross Revenge Boat Trips

Wireless Waffle
recently spotted that
boat trips to see Radio Caroline's ship
, the Ross Revenge, were available to book from their web-site (follow the link) and so it seemed like the perfect opportunity to don an anorak and set sail. On the day of the visit, the weather was beautiful, sunny, 26C and the sea was calm, but it isn't always like that. Boarding the Razorbill 3 , the tender which takes you from the jetty at West Mersea out to the
Ross Revenge
, it was a pleasure to see so many families taking advantage of the weather to go crabbing. The ride out took about 25 minutes and was a delight in itself with the cool sea air rushing past.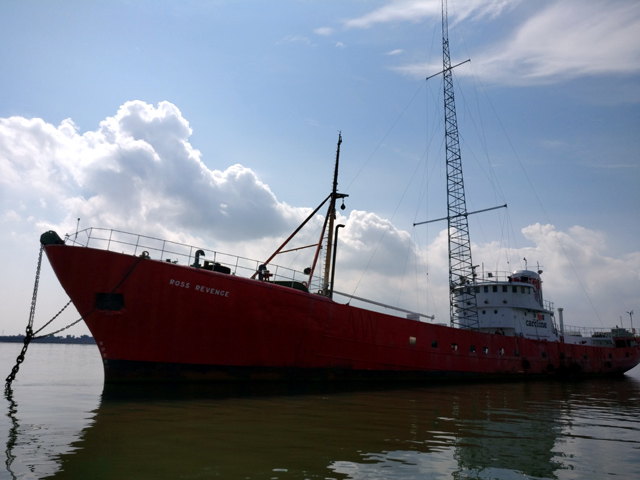 Pulling alongside the boat, it looked exactly as it does in all the postcards, though the current mast is a lot smaller than the 100 metre mast that was in use for transmission during Radio Caroline's heyday. Arrival onto the boat was greeted by a cup of tea and a fig roll in the mess and a description of the history of the boat, which turns out to have been a prize Grimsby-based fishing boat originally made as an Icelandic ice-breaker. Much of the tour of the boat is about the Ross Revenge itself, as well as the catastrophic events of October 1987 which saw the original mast collapse in a storm.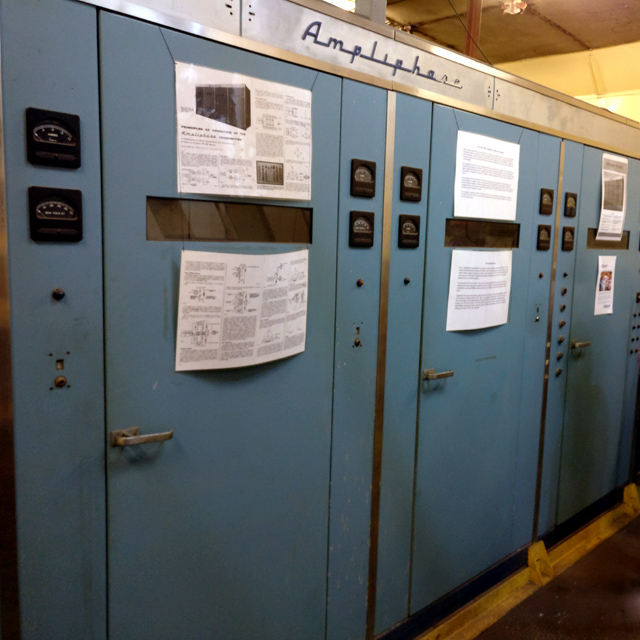 Of course no tour of such an historic ship would be complete without a visit to the studios and the technical facilities such as the engine room, generator room and of course the transmitter room. The 50 kW 'Ampliphase' transmitter consumed nearly 1 tonne of fuel per day to operate so it's no wonder that getting supplies to the boat, including diesel and fresh water, were so critical.
Though the notion of being a pirate at sea may seem romantic, it is clear that the lives of the DJs and other staff must, at times, have been pretty miserable. The cabins below the deck are relatively spartan and if it was blowing a gale, there couldn't have been much to do if you weren't on air.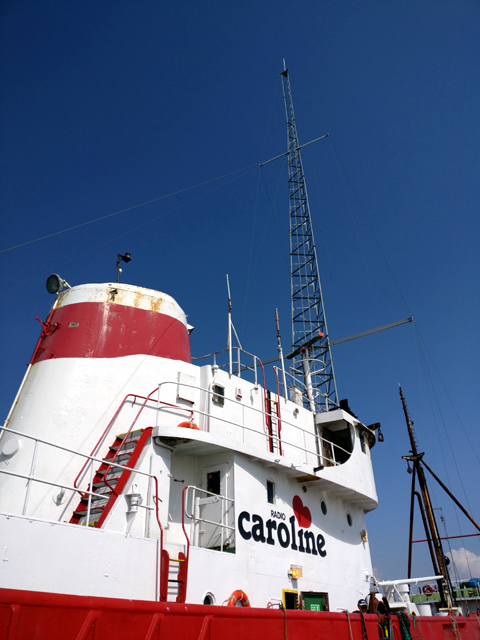 The return from the ship to the shore was equally exhilarating and you left with a lot of respect for those who took to the seas to try and deliver a radio service that filled the gap left by the legal, land-based services.
The tour comes with the Wireless Waffle 'big thumbs up' seal of approval, and is highly recommended. Obviously the weather can not be guaranteed, but an interesting and enlightening day-out is assured.
Recently,
Radio Caroline has been awarded a licence by Ofcom
to operate a 1 kW medium wave service on the old BBC World Service channel of 648 kHz. Whether the station can hold its own in today's crowded, on-line, market remains to be seen, but there will no doubt be a few anoraks tuning in for old time's sake. And maybe they can re-capture the spirit of those halcyon days without needing sea sick buckets.
add comment
( 85 views ) |
0 trackbacks
|
permalink
|





( 3 / 2627 )
Tune In, Light Up!

Wireless Waffle
recently suggested that the high power short-wave transmissions coming from the HAARP site in Alaska were trying to
trigger lightning strikes
in an attempt to send radio signals strong enough to be received on a remote planet.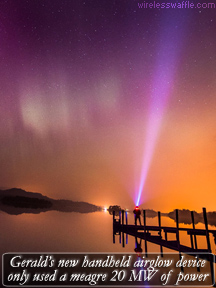 It seems that they are not the only ones who are generating very high power short-wave transmissions, but that the enormous dish at Arecibo in Puerto Rico has also been turned into a giant transmitter. Experiments taking place right now (from 24 to 31 July 2017) involve transmissions around either 5.125 or 8.175 MHz (
the most recent transmissions have been on 5.095 MHz
) with an effective radiated power of around 100 MW (MegaWatts).
The purpose of the transmissions is to try and heat up the ionosphere for various experiments, including trying to establish Langmuir waves which excite oxygen atoms sufficiently that they emit light at visible wavelengths and light up the night sky in something known as 'airglow'. You couldn't make this stuff up!
Those strange lights in the night sky that you thought were UFOs... it's just scientists getting their oxygen atoms all excited. Nothing to worry about.
add comment
( 54 views ) |
0 trackbacks
|
permalink
|





( 3 / 19074 )
Clarifying Radio Acronyms Precariously

The world of wireless, spectrum and radio has so many acronyms and abbreviations that
Wireless Waffle
thought it might be useful to provide an alphabetical glossary of terms to help explain what on Earth is going on in this complex and complicated field of electromagnetic mechanics.
CEPT - Considers Every Point Tortuously - A largely technical organisation whose job is to spend so long pontificating over matters that whatever it is they were doing in the first place has been long forgotten by the time they have finished.
DAB - Dribble And Bibble - A radio broadcasting technology in which all music and speech, no matter how beautiful, is converted into a stream of incomprehensible bubbling sounds. Not completely dissimilar to GSM.
DRM - Dribbles Really Magnificently - Another radio broadcasting technology that converts all sounds into incomprehensible bubbling sounds unless reception is perfect, which, oddly, it is specifically designed never to be.
DSA - Doesn't Solve Anything - A method by which spectrum that the owners still need is offered to those who don't want it, in a way that makes it about as attractive as finding a sand-pit in the middle of the Sahara desert.
DTT - Defunct Dated Technology - A technology for sending televisual entertainfold across the etheric airwaves to those wishing to watch Laurel and Hardy movies. Often uses SD - Sensual Depreviation - to convince users that it is better than nothing.
ESA - Egotistical Space Aliens - An organisation which thinks that unless you own real-estate at least 30 km above the surface of the Earth, you can't possibly understand anything that passes through their extra-terrestrial minds.
ESOA - Excellent Services Over All - The Platinum sponsor of this useful guide to acronyms and abbreviations, even if their satellites will eventually cause the death of George Clooney and near-death of Sandra Bullock.
ETSI - Experts Testing Stupid Ideas - A European organisation that is forced, by law, to produce specifications for any idea that is thrown at it, no matter how outlandish or pointless (see GSM, IoT, UMTS, etc).
GSM - Garbled Speech Mumbler - A mobile network which makes voice calls sound like they are coming from 20,000 leagues beneath the sea, so that future technologies can be hailed as being so much better. Also known as '2G' (twice garbled).
GSMA - Greedy Spectrum Munching Androids - An organisation hell-bent on gobbling all spectrum in persuit of its end-goal of making all other wireless users kow-tow to its wanton soup.
ITU - Insolvent and Terribly Unfashionable - A near-bankrupt agency of the United Nations which fleeces their members and then uses the proceeds to find ways to put those self-same members out of business.
IoT - It's Ostensibly Toasters - The future of the internet in which toasters (and kettles and fridge-freezers) need to sent each other gigabytes of data and thus find ways of making you and I pay the mobile operators more money.
LSA - Lazy Spectrum Administrations - A method by which regulators who are too lazy to do things properly try to find a back-door method of not having to arse about with auctions or any of that complicated nonsense.
LTE - Licences Too Expensive - A mobile network that actually overcomes many of the faults of its predecessors, but for which the necessary spectrum licences require operators to re-mortgage their cell sites twice over.
RSPG - Ruthlessley Spouting Pretentious Garbage - A European organisation which waits for other people to come up with ideas about spectrum management (no matter whether good or bad) and then claims them as their own.
SETI - Seemed Like A Good Idea At The Time - One of those acronyms where the letters don't match the description in English. You have to speak the southern Charon dialect of Borlorks for the acronym to make any more sense than their goals do.
TACS - Terrifically Annoying Crackly Sound - A mobile network designed to intersperse voice calls with inane crackling noises making users believe that they are communicating on a system so hi-tech that the calls could come from Mars and be no worse.
UMTS - Users Must Type Slowly - A mobile network that delivers internet content at speeds only impressive to those for whom typing is more difficult than remembering how to ask for two beers in Spanish whilst on holiday in Portugal.
WSD - Works Sometimes Dmpff'lrrt - A highly risky and unproven way of using radio spectrum that may or may not be clear of other users to connect fridges, kettles and fridge-freezers together (see IoT).
CTRL - Click To Release Leprechaun - A button on computer keyboards that most people believe has a technical function but is actually there as a way of allowing the Irish security services to spy on your every move.
OK, so the last one isn't in alphabetical order any more, or even necessarily true. Clearly this is a sign that we should leave it here and move on to something more productive or informative. Like whinging about WiFi or something!
2 comments
( 155 views ) |
0 trackbacks
|
permalink
|





( 3 / 31998 )