BBBBCC Rraaddiioo Ssccoottllaanndd

Friday 9 December, 2011, 15:17
Posted by Administrator
It seems that it's not just
Rraaddiioo Nneeddeerrllaanndd
that suffer from an echo on transmissions. It was a
dreich
day and being concerned for relatives who live in Northern Scotland, last night the
Wireless Waffle
receiver was tuned to
BBC Radio Scotland
on 810 kHz.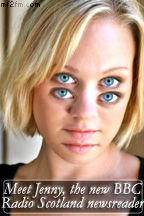 The 810 kHz service is transmitted from three stations, two high powered (Burghead and Westerglen) at 100 kW a piece, and a lower powered fill-in at Redmoss at 5 kW. From the south of England, only the two higher powered stations are audible and during the evening are pretty much at similar strengths and lo! and behold, there was an annoying echo
echo
on the signal.
Where multiple transmitters operate on the same frequency, it is as important that the audio feeds are synchronised as it is that the transmission frequencies are. Where both can be received at similar signal strengths, any difference in frequency between the two causes an audible
heterodyne
(a.k.a. whistle) to be heard. If the audio is not synchronised, an echo can be heard. Any difference in audio delay between the sites should typically be kept below a few tens of milliSeconds if the resulting echo isn't to cause a loss of intelligibility.
There are many reasons why transmitters may have audio feeds that are not synchronised. For short-wave services, the feeds may be on completely different routes. This became a bigger problem for international broadcasters when short-wave feeder transmitters were replaced by satellites. For many years, the
BBC World Service
maintained a 24 hour English language service on
6195 kHz
(these days it is used for a variety of different languages and is shared with other broadcasters too). In those halcyon days, different transmitters around the world were used to maintain the frequency and typically sites in the UK, Middle East and Singapore would share the honours. At times, however, some of these transmitters may be on at the same time. It was not uncommon for Singapore and one of the UK sites (eg Skelton, Woofferton or Rampisham) to be transmitting English language programmes at the same time. But Singapore was fed via satellite and Rampisham by direct land-line. The result - 'The news
the news
read by Damien
read by Damien
Trellis
Trellis
' - over most of the world inbetween the two sites. This was eventually resolved by adding in a delay to the UK feed at Bush House to bring the networks back into alignment.
It's a shame, therefore, that BBC Scotland haven't learnt the lessons of their sassenach colleagues and got their own delays sorted out. Not least, the national DAB network has to be synchronised to within microSeconds so sorting the medium wave network out ought to be child's play.
As they say in Scotland, 'Whit's fur ye'll no go by ye!'
add comment
( 1225 views ) |
0 trackbacks
|
permalink
|





( 3 / 23268 )
Radio Killer - Don't Let The Music End

Here at
Wireless Waffle
we're working on something a bit special. A project that will help sufferers of broadband drop-out everywhere. Meanwhile, we thought you might like the latest offering from Romanian groovers
Radio Killer
, 'Don't Let The Music End' (lovers of 80's hi-fi will enjoy their web-site!)
It isn't as good as
Lonely Heart
which we plugged for chart success earlier in the year (and still think there's a chance it might make it some day), but it's nice to see an inventive video (ie one that isn't just scantily clad ladies a-groovin' and a-grindin'). And Radio Killer singer 'Lee Heart' has a very girl next door kind of look, which again makes a refreshing change from the 'less is less' attire of some other pop stars.
One ponderance we had was whether there was just a little plagiarism going on when they thought of the title, as it's precariously similar to '
Don't Let The Music Die
' from fellow Romanian Inna...
1 comment
( 1754 views ) |
0 trackbacks
|
permalink
|





( 3 / 38844 )
Another Radio Birthday...


It's been a while since we discussed
CB radio
here at
Wireless Waffle
and it's not time to go over old ground now. What it is time for, is to dust of that old rig that's propping up the WiFi routers that are sitting in the corner of your garage, sort yourself out a twig, and join the birthday celebrations.
CB radio becomes 30 years old on November 2nd this year, and to commemorate this landmark, there is going to be a party called '
The Big Net
'. Set your dial to Channel 30 (UK) or 27.89125 MHz if you prefer, and put out a call between 7pm and 9pm. Wouldn't it be good if the result was the discovery of a few old breakers who you had lost contact with. Or embarrassing if you happen upon a few old seat-covers! A big 10-4 on that one.
Keep the lipstick off your dipstick and the smokies off your tail, good buddies. 10-10 'til we do it again.
1 comment
( 1234 views ) |
0 trackbacks
|
permalink
|





( 3 / 36797 )
Happy Birth-DAB Sweet Sixteen

Tuesday 27 September, 2011, 12:09
Posted by Administrator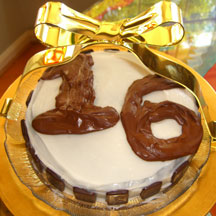 27th September is a good day for birthdays. Not only is it the birthday of Internet Goliath Google, but it's also the date on which DAB radio was launched in the UK.
DAB radio was launched with a fanfare in London by the BBC on 27th September 1995 - 16 years ago. At the time, only the BBC multiplex was on-air carrying the existing analogue services. They were soon joined by BBC World Service and then by a rag tag collection of new services such as 5 Live Sports Extra and 6Music. On 15 November 1999 it was joined by the first national multiplex, Digital One.
So on the 16th birthday of DAB in the UK, how far has the service progressed? The following promotional script, leaked from the BBC, advertising DAB radio, says it all...
Fed up with FM radio? Had it with top presenters and big name artists? Are quality and professionalism beginning to bore you? Is high quality sound too run of the mill? Then maybe DAB radio is for you...

Gone are the crackles of FM reception, with DAB, it's bubbles you'll be hearing. And that's if you can get anything at all. The 'digital' nature of transmission means you'll either get something, or nothing at all (and usually it's the latter).

If you're used to digital mp3 audio, then you won't not be disappointed. Our state-of-the-ark mp2, low bit-rate, audio encoding will remind you less of modern day CD audio and instead bring back nostalgia for the cassette tapes your parents used to make in the 1980s.

And unlike regular radio broadcasters, DAB stations come and go at a whim. So if you find yourself liking a channel, get ready to be disappointed when it disappears. And you won't be able to use a cheap radio - you need specialist equipment and an aerial the size of a playing field.

So if you crave a challenge, dine with disappointment, make mountains of money, have tons of time, and don't actually care about anything much, maybe DAB radio for you.

DAB radio, mono at it's best...
Kind of says it all, doesn't it?
1 comment
( 1522 views ) |
0 trackbacks
|
permalink
|





( 3 / 28022 )