Vodafone rapped over knuckles for roaming scam

Back in June of last year,
Wireless Waffle
discussed the fact that
Vodafone
had
hiked their roaming charges
in a number of countries, making even a simple text message cost a fiver or more.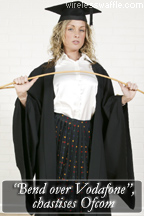 It seems that we were not the only ones to notice this but that the powers that be took a dim view of it as well. As a result, Vodafone has been forced by the telecoms regulator
Ofcom
to allow its customers to end their contracts early, if they had been duped into the roaming scam.
On the one hand it's hard to feel sorry for Vodafone for sneaking in these additional roaming charges, when it was faced with a total loss of roaming income from anyone going to Europe as a result of
European Commission Decision (EU) 2016/2286
which forces all EU mobile operators to abolish roaming charges between Member states, often dubbed the 'roam like at home' decision. On the other hand, it was a pretty underhand move, especially as the only notice that some Vodafone customers had was a text message - and who bothers to read text messages from their operators?
add comment
( 205 views ) |
0 trackbacks
|
permalink
|





( 2.9 / 16322 )