Farnborough Airport Frequencies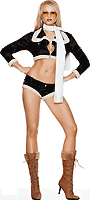 To add to the previous list of
frequencies for London Heathrow, Gatwick and City
that went before, here is a set of active frequencies for
Farnborough
(ICAO code: EGLF) which might come in handy for the 2008 airshow. All frequencies are in MHz and use AM. Those shown in
italics
are unconfirmed but are listed widely enough to indicate that they are highly likely to remain current.
London Farnborough Airport
Radar 125.250
Radar Standby 130.050
Approach 134.350
Tower 122.500
Operations 130.375 (TAG Handling)
ATIS 128.400
One additional frequency of note is 444.3375 MHz (FM not AM), which is a local repeat of the tower and is interestingly in the 443.500 to 445.500 MHz Ministry of Defence (MoD) sub-band. Presumably this is assignment a hang-over from when the airport undertook more military operations than it does now.
add comment
( 1334 views ) |
0 trackbacks
|
permalink
|





( 3 / 8996 )