Halloween Hits Reminder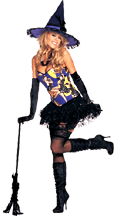 Just a quick reminder, as Halloween is but 2 dastardly days away, to take a look at our list of
One Hundred Halloween Hits
.
The list of horrendous hell-bound hits has now easily exceeded a blood-curdling century, but 'one hundred and sixteen and a bit Halloween hits' doesn't have quite the same ghastly ghoulish ring to it, now does it?
If you need a playlist for your All Hallows' Eve party, look no further than this fiendish selection of scary songs. Get ready to be afraider than you've never been before.
And if you don't know your Zombie from your Lil' Devil, or your Highway From Hell from your Road To Hell, this list is for you!
add comment
( 83 views ) |
0 trackbacks
|
permalink
|





( 3 / 15239 )
The Five G's...


Whilst much of the world is yet to experience the joy of 4G (LTE) mobile technology, work is ongoing in a variety of prestigious international bodies to put the finishing touches to the specifications for the next generation of mobile technology:
5G
. Everybody knows that 4G stands for GGGG, or the stuttering noise you get when buffering a video, but what are the five G's? Simple, it's
G
irls,
G
oals,
G
ambling,
G
aming and videos of
Grimalkins
, which are the cornerstones upon which mobile technologies aim to make their fortune.
Slightly more seriously though, oodles is already beginning to be written about what 5G will deliver, which includes a range of features such as:
Blazing hot, super, ultra, mega-fast broadband internet.
Ubiquitous, go-everywhere, global, universal coverage (even in those hard to get at areas such as behind the sofa).
Instantaneous, low-latency, tactile, real-time connectivity.
Extremely high reliability, such that the network will only be down for 14 seconds per millennium, which together with low-latency mentioned above, is termed Ultra-Reliable Low Latency Communications (URLLC).
Capacity to connect thousands of billions of machines (such as coke vending machines and tumble dryers) known as Massive Machine Type Communication (MTC).
Power consumption so low that batteries only need re-charging once in every 4 years and base stations can run on one lemon per month.
World peace and an end to global poverty and disease (this might be made up).
There are many visions of 5G but they all tend to have a common theme of apparently perfect connectivity where any person or device can connect wherever they are, at whatever data rates they wish, and with minimal latency. There is no doubt that 5G will achieve some, maybe all, of these goals, but probably not all at the same time or in the same place. The only (well one of the only) problem(s) with this, is that it needs hundreds, if not thousands, of MHz of valuable radio spectrum and a tenfold increase in the number of cell sites to achieve these goals.
5G is being touted as the 'mobile technology to end all mobile technologies' and as a panacea for all ailments. This miraculous technology will provide what some have termed an 'always sufficient connection' which gives the impression of infinite bandwidth - yes,
infinite
.
A recent study for the European Commission entitled '
Identification and quantification of key socio-economic data to support strategic planning for the introduction of 5G in Europe
' claims that 5G will bring over €110 billion of benefits per year by 2025 across just four industries: automotive, health, transport and utilities (i.e. ignoring the benefits to you or I of coverage behind the sofa). Others, however, have cast doubt on the claims of the 5G community. Professor William Webb has published a book entitled '
The 5G Myth
'. In it, he raises a number of concerns about 5G's ability to deliver the enormous range of benefits it is promising, and the associated drive for more radio spectrum for mobile services. Professor Webb's arguments which are largely about the ability or willingness of mobile operators to pay for the necessary investment in 5G includet:
Mobile subscriber numbers have levelled off and average revenue per user (ARPU) is in gentle decline.
The 5G vision has not been coupled with a business case. The business reality is that there is no new money.
The business case for the 'jewel in the crown' of 5G – its millimeter Wave (mmWave) solution – makes little sense.
He goes on to make a number of recommendations about what those in charge of radio spectrum and telecommnunications regulation should be doing:
Regulators and the ITU should not focus on spectrum for 5G - instead they should ensure that spectrum is available for each component [e.g. broadband, critical communications and IoT].
Academics should have a stronger links to business departments in universities to ensure that technical breakthroughs are actually valuable.
Large players (e.g. Ericsson, Nokia, Qualcomm, Huawei, Cisco and Google) should stop believing that the future is all about Gbit/s data rates.
Governments should focus on deployment, applications and over-the-top (OTT) services not just spectrum.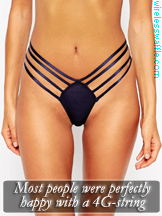 What is odd about both sides of the argument, is that many of the so-called advantages of 5G can almost certainly be delivered by 4G (LTE), especially by the forthcoming super-4G variant known as LTE-Advanced-PRO (
3GPP LTE Release 13
and 14) - often termed 4.9G. All that 5G really brings is an explosion in the number of cell sites (which could occur using 4G) and technologies and techniques to allow access to new mmWave spectrum above 24 GHz which,
according to Verizon
may not be great for mobile services anyway:
Delivering mmWave broadband connectivity in non-line-of-sight environments, such as suburban and urban areas, is extremely problematic over the last quarter mile, because of foliage and solid constructions.
The European Commission believes that 5G is important. Its
5G Action Plan
encourages each and every Member State to have a 5G service in at least one city in their country by 2020. Whether this could be delivered using 4.9G to the satisfaction of the Commission is not clear but Ericsson's definition of a 5G subscription in its
Mobility Report
is:
a device capable of supporting LTE Evolved or NX, connected to a 5G-enabled network, supporting new use cases
This is effectively saying that 4.9G LTE-Advanced-PRO connections would be considered as 5G subscriptions.
The reality is that the real 5G specifications will not be completed until 2020, hence any service delivered before that date can be a 'pre-5G' service at best - or maybe 4.9G. Plans for 5G services in each EU Member state, at the Winter Olympic Games in Korea in 2018 and the Tokyo Olympic Games in 2020 can only possibly fall into the pre-5G category as there will be no agreed 5G standard by these dates.
That being said, there was a time when the World was awash with 'pre-N' internet routers, which were built before the relevant standard (IEEE 802.11n) was completed. The issue with such pre-standardisation products is generally one of interoperability. Each manufacture would have had to have implemented a variation of the standard as they thought it would be finally ratified and these may have been different. Thus whilst a pre-N Netgear router may have worked with a pre-N Netgear WiFi dongle, it wasn't guaranteed to work with a TP-Link, Belkin or a Linksys one.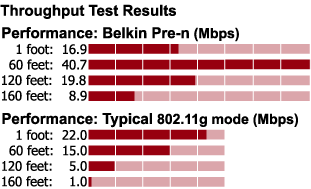 For WiFi, that's probably not such a big problem, not least as if the 'N' connection failed, the router and dongle could fall back to an agreed, but less whizzy standard such as 802.11g and thus whilst the benefits of the newer standard wouldn't be realised, the WiFi would still work.
This may be what happens with the pre-5G mobile networks. Japan, for example, has a number of domestic mobile phone manufacturers (e.g. Sony, Sharp, Panasonic) who could agree to make pre-5G phones to whichever standard the Japanese mobile operators chose to roll-out. But for anyone else visiting the country (e.g. for the 2020 Olympic Games) with phones made by other manufacturers, they would just fall back to 4G and not enjoy the benefits of 5G. In such a way, Japan could claim to be offering a 5G service, but it would not be one that was internationally compatible.
So whilst 5G may yet save the world, it is unlikely to do so by 2020 unless you happen to live in a country which has its own mobile manufacturers, live in one of the minute areas where coverage will exist, happen to be there on a day when the 5G service is actually working, and have bought a locally produced 5G phone (or have been provided with one as a guinea pig to test the service). For the rest of us, its going to be more like 2023 or 2025 before
real
5G services begin to make a difference to our daily lives and the (perfectly adequate) 4G service we already enjoy will, for now, have to be
largely sufficient
(though this doesn't make such a compelling strap-line for mobile operators' marketing departments).

add comment
( 28 views ) |
0 trackbacks
|
permalink
|
related link
|





( 3 / 451 )
Clarifying Radio Acronyms Precariously

The world of wireless, spectrum and radio has so many acronyms and abbreviations that
Wireless Waffle
thought it might be useful to provide an alphabetical glossary of terms to help explain what on Earth is going on in this complex and complicated field of electromagnetic mechanics.
CEPT - Considers Every Point Tortuously - A largely technical organisation whose job is to spend so long pontificating over matters that whatever it is they were doing in the first place has been long forgotten by the time they have finished.
DAB - Dribble And Bibble - A radio broadcasting technology in which all music and speech, no matter how beautiful, is converted into a stream of incomprehensible bubbling sounds. Not completely dissimilar to GSM.
DRM - Dribbles Really Magnificently - Another radio broadcasting technology that converts all sounds into incomprehensible bubbling sounds unless reception is perfect, which, oddly, it is specifically designed never to be.
DSA - Doesn't Solve Anything - A method by which spectrum that the owners still need is offered to those who don't want it, in a way that makes it about as attractive as finding a sand-pit in the middle of the Sahara desert.
DTT - Defunct Dated Technology - A technology for sending televisual entertainfold across the etheric airwaves to those wishing to watch Laurel and Hardy movies. Often uses SD - Sensual Depreviation - to convince users that it is better than nothing.
ESA - Egotistical Space Aliens - An organisation which thinks that unless you own real-estate at least 30 km above the surface of the Earth, you can't possibly understand anything that passes through their extra-terrestrial minds.
ESOA - Excellent Services Over All - The Platinum sponsor of this useful guide to acronyms and abbreviations, even if their satellites will eventually cause the death of George Clooney and near-death of Sandra Bullock.
ETSI - Experts Testing Stupid Ideas - A European organisation that is forced, by law, to produce specifications for any idea that is thrown at it, no matter how outlandish or pointless (see GSM, IoT, UMTS, etc).
GSM - Garbled Speech Mumbler - A mobile network which makes voice calls sound like they are coming from 20,000 leagues beneath the sea, so that future technologies can be hailed as being so much better. Also known as '2G' (twice garbled).
GSMA - Greedy Spectrum Munching Androids - An organisation hell-bent on gobbling all spectrum in persuit of its end-goal of making all other wireless users kow-tow to its wanton soup.
ITU - Insolvent and Terribly Unfashionable - A near-bankrupt agency of the United Nations which fleeces their members and then uses the proceeds to find ways to put those self-same members out of business.
IoT - It's Ostensibly Toasters - The future of the internet in which toasters (and kettles and fridge-freezers) need to sent each other gigabytes of data and thus find ways of making you and I pay the mobile operators more money.
LSA - Lazy Spectrum Administrations - A method by which regulators who are too lazy to do things properly try to find a back-door method of not having to arse about with auctions or any of that complicated nonsense.
LTE - Licences Too Expensive - A mobile network that actually overcomes many of the faults of its predecessors, but for which the necessary spectrum licences require operators to re-mortgage their cell sites twice over.
RSPG - Ruthlessley Spouting Pretentious Garbage - A European organisation which waits for other people to come up with ideas about spectrum management (no matter whether good or bad) and then claims them as their own.
SETI - Seemed Like A Good Idea At The Time - One of those acronyms where the letters don't match the description in English. You have to speak the southern Charon dialect of Borlorks for the acronym to make any more sense than their goals do.
TACS - Terrifically Annoying Crackly Sound - A mobile network designed to intersperse voice calls with inane crackling noises making users believe that they are communicating on a system so hi-tech that the calls could come from Mars and be no worse.
UMTS - Users Must Type Slowly - A mobile network that delivers internet content at speeds only impressive to those for whom typing is more difficult than remembering how to ask for two beers in Spanish whilst on holiday in Portugal.
WSD - Works Sometimes Dmpff'lrrt - A highly risky and unproven way of using radio spectrum that may or may not be clear of other users to connect fridges, kettles and fridge-freezers together (see IoT).
CTRL - Click To Release Leprechaun - A button on computer keyboards that most people believe has a technical function but is actually there as a way of allowing the Irish security services to spy on your every move.
OK, so the last one isn't in alphabetical order any more, or even necessarily true. Clearly this is a sign that we should leave it here and move on to something more productive or informative. Like whinging about WiFi or something!
2 comments
( 215 views ) |
0 trackbacks
|
permalink
|





( 3 / 32153 )
Whack A Roaming Mole

The idea of the 'whack-a-mole' game is that each time a mole's head appears above the parapet, you clobber it with a hammer and push it back down, the goal being to keep the playing field clear of moles. But no matter how hard you hit a mole, there always seems to be another one willing to risk being whacked.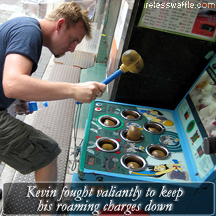 Keeping your mobile phone bill down is very similar to a game of whack-a-mole. Just as you think that one set of charges has been reduced, some new charges pop-up somewhere else. And so it is with the abolishment of roaming fees in Europe. No longer will you have to pay any more than your standard fees for using your standard call package when travelling within the 28 European Union Member States. Remember though, this only applies to calling and texting home, and to using data. If you want to make a call to the restaurant down the road whilst you are staying in France, this is still an international call from the UK. So which mole is sticking its head above the parapet now?
Prior to the abolition of roaming fees, several mobile operators offered roaming packages which were designed to help travellers keep down the cost of roaming. Take
Vodafone
as an example. For those travelling to the EU 28, it had a package called 'EuroTraveller' which allowed you to use your home allowances for GBP3 per day. There was a secondary package called 'WorldTraveller' which allowed you to use your home allowances for GBP5 per day in another 60 or so countries. Both of these packages were optional and you could opt in and out willy-nilly. So if you didn't want to use your packaged in full, but just wished to send one text message, you could opt out (ideally before you travelled) and just pay the 30p or so rate for a text instead of GBP3, meaning that low users and high users could select a deal that was best for them.
So as of June 15 when EU roaming is free, Vodafone has introduced two new packages, 'Roam-Free' and Roam-Further'. Roam-Free allows you to use your UK package in the EU28 plus a few non EU-countries such as Iceland, Norway, Switzerland and Turkey at no additional charge. Roam-Further allows you to use your UK package in a further 60 countries (largely the same as the previous WorldTraveller package excluding, for some reason, the United Arab Emirates) for GBP5 per day.
So it sounds the same, right? Wrong! The Roam-Further package is NOT optional. This means that if you travel to one of the 60 countries included in the list, such as Australia, Hong Kong, Thailand or the USA, and send a single text message to let someone back home know that you are OK, it will cost you GBP5. There is no way to opt-out of this package. So instead of costing 35p for that text, it will cost GBP5. And there's your new mole, peering out of its hole.
Just when you thought that roaming was going to be cheaper and easier, if you travel anywhere outside of the EU, the operators will now try and recoup their costs from you by charging more for roaming than they did before. Of course if you're a heavy user, not much has changed, but for most holidaymakers who just want to let someone back home know that they are OK, and use
WiFi
to upload their holiday snaps to Facebook, that little text has become a whole lot more expensive.
add comment
( 51 views ) |
0 trackbacks
|
permalink
|





( 3 / 34591 )